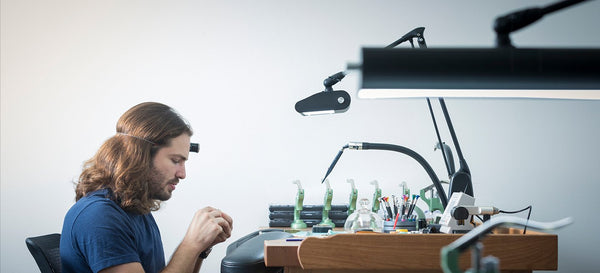 1987 – 2005
---
Cameron Weiss' fixation with watches started at a young age. His parents liked to say he slept with a watch on his wrist and actually attempted to fix his first watch at the ripe age of 5.
For his high school graduation, Cameron asked his parents for some thing outside-the-box: watchmaking tools and watchmaking books. They happily obliged, supporting his creative vision wholeheartedly. Cameron set off to study business at the University of Southern California with a goal to bring his watchmaking vision to life.
2010
---
After USC, he attended an apprentice-style watchmaking program. This full-time, two-year program taught him the art of repair and how to hand-make watch parts on lathes. Next, he went on to receive further certifications with Audemars Piguet and Vacheron Constantin in the US and Switzerland.
2013
---
After 10 years of perfecting his craft, he launched Weiss Watch Company with his now-wife Whitney and Labrador Jules by his side. The first ten timepieces took over 300 hours to hand-finish and assemble in his dining room.